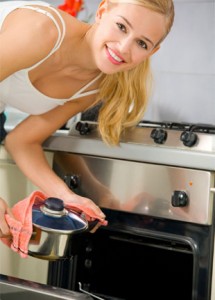 Oven is one of the most useful and used equipment in our kitchen. It's a basic part for food preparation. For this reason cleaning properly our oven is a must, in order to be sure that we consume a healthy food.
Each house hold takes care about the condition of the oven. Even tough within its proper usage , a certain moment comes when just a basic cleaning with detergents bough from the shop is not enough in order to reach the proper result.
We are a professional and skilled cleaning company that helps busy housewives get their cooking appliances sparkling clean. We tend to cover all areas in London and offer our oven cleaning solutions to domestic or commercial customers.
Kitchen Cleaning
Prices
Single Oven Cleaning

£

45

Double Oven Cleaning

£

63

Extractor Cleaning

£

20

Cooker Hob Cleaning

£

23

Fridge Cleaning

£

60
We are able to clean not only the tiny domestic ovens but also large and industrial ones used in bistros and restaurants.
We are advising our customers to have their oven Professionally Cleaned at least once per 6 months. Our cleaners are professionally equipped and trained. They are using special methods and techniques , which basically could not be achieved with the simple usage of materials. We are offering an Oven Cleaning with the provision of professional detergents. We are able also to provide a professional cleaning for your hob, fan and even filter change.