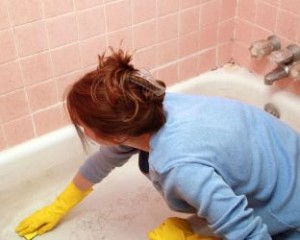 Landlords and tenants in Croyden, London often need one of the most popular cleaning services – end of tenancy cleaning. Our company offers this specific service and we have already satisfied hundreds of landlords and tenants. We guarantee that our cleaners will leave you with a spotless clean place.
Give us a call and our support staff will explain you everything you need to know about our end of tenancy cleaning package in Croyden, London. We will arrange a meeting and our cleaning team will arrive in the appointed time & day. They will stay there as long as it takes in order to make your place look like new. We have gathered some of the best cleaners in London and we guarantee that they will take care of every part of your property.
We know how hard it is for customers to choose a reputable cleaning company, because you never know what the quality will be, but we can guarantee for our services. The end of tenancy cleaning team will take care of all areas of your house:
Kitchen
• They will mop the floor
• They will clean cupboards and drawers on the inside and out
• They will sanitize and polish the sink and taps
• They will clean kitchen appliances
Bathroom and Toilets
• They will scrub and sanitize the floor
• They will clean the tiles, shower, sink and bath
• They will clean and polish the mirrors
Bedroom, Living and Dinning Room
• They will vacuum clean carpets and upholstery
• They will clean skirting boards, doors, door frames, light switches and radiators
• They will dust all surfaces
We provide our cleaners with all the required equipment and detergents. We only use biodegradable, anti-allergic and eco-friendly cleaning products. We don't charge extra for the equipment. Our service comes with a 48 hour guarantee and you find something dirty during this time, you can call us and we will send our team to sort our the problem and clean your place free of charge.
End of Tenancy Cleaning Croyden
Croyden is an important district of London. It has been included under the developmental plan of greater London. The area was rural earlier; most of its parts were slum dominated. After the huge damage in Second World War, this region has been developed a lot. The slums have been demolished by shifting of its population to an isolated community at the nearby place.
Opening of many stores and set up of commercial and retail market enhanced the popularity of the place manifold in London. In the past time, the area also possessed a bustling market. This district has made a borough of the county. During the last decade of the 19th century, the streets and roads of croyden were widened by the view of commercial development.
The district was well known airport of London till the Second World War. In the modern context, croyden became well established with the building of the amazing shopping centres, theatres, croyden clock tower and whitgift centre.
This place is well known for its art culture and cinemas. The region is home to many notable celebrities while the existence of various hospitals made it an important health centre.
Now, the district is subjected for the evolution of some luxurious buildings. The saffron square is one among them. It is expected to be building with 50 floors including the residential units, office space and a grand hotel.